B2B Collaboration Challenges Solved
Many industries today rely on strategic collaboration among multiple value chain participants. The vast amount of electronic intellectual-property flow this creates among multiple facilities exposes enterprise networks to three critical security concerns:
Cyber threats – an estimated $1 trillion of intellectual property was stolen through the Internet last year alone.
Unintended partner access of proprietary data – confidentiality requires that sensitive data be shared only with partners that have a need to know.
Unintentional introduction of malware or vulnerabilities – compromised partner networks can cause devastating problems when connecting to the enterprise network.
Trust ANX to meet these challenges and more with Secure Value Chain Collaboration solutions that provide a world of collaborative benefits
Fully managed service with help desk support for partner end users – everyone connected in the value chain has expert support as needed, 24 x 7.
Quickly establish secure partner access to enterprise resources – establish highly secure, encrypted connections in just minutes.
Securely partition enterprise information – give each partner exactly the application and file access it needs without unnecessarily exposing proprietary information.
Protect enterprise networks from malware threats – automatically verify that each partner's anti-malware programs and operating system patches are up-to-date.
Enforce collaboration standards – ANX PostureCommand™ inspects connection requests to ensure that endpoints are safe and that partners have all required software and hardware compatibilities.
Support compliance requirements – access-history reports and endpoint-policy enforcement assist in effective governance, risk management, and compliance.
Offer flexible connectivity options to partners – extend site-to-site and web-based or client VPN end-user access, easily controlled for short-term projects.
Reduce total cost of ownership – with the ANX Software as a Service (Saas) solution, there's no hardware or software to purchase, and no hidden costs.
View a Demo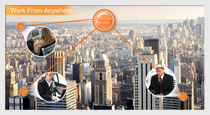 Navigation
Benefits
No hardware to purchase
Superior endpoint security
Packed with productivity features
Scalable and affordable
Learn More