Secure Connectivity to Enterprise and Cloud-based Resources
ANX' PositivePro™ provides enterprises and their remote users to access sensitive data within their network and company resources in the cloud.
A true multi-platform VPN solution, PositivePro supports connectivity via Windows, Macintosh OSX, or iOS, enabling remote user connections on virtually any platform.
Regardless of the computing platforms employed by remote users, PositivePro extends secure, rich access with endpoint security posture control to all.
VPN Client
The ANX PositivePro VPN Client offers complete extension of the corporate network while ensuring that every remote connection is secure and locked down to corporate standards. The downloadable, plug-and-play VPN Client works behind firewalls, proxy servers, and home networks.
Existing users - Download the latest version of PositvePro VPN Client
Web Client
For remote users who are best served with web clients, including those who are temporarily away from their PCs, PositivePro WebTop makes any standard web browser a secure access portal. A simple, customized set of resources is displayed upon login, providing access to work resources:
Existing users - Log into PositivePro WebTop
Support for Apple and Android Devices
For remote users on the go, PositivePro Mobile offers remote connections to resources appropriate to hand-held computing devices.
View files and documents on the network
Print documents remotely
Access critical applications
Access computer desktop remotely
Whether you are at home or in the office, on a Mac, a PC, an iPhone or iPad, PositivePro delivers immediate secure access to critical information anywhere around the globe.
Some organizations may not offer all services or clients listed. Contact your system administrator for more information about ways you can access PositivePro in your company.
PositivePro Mobile Client Download
View a Demo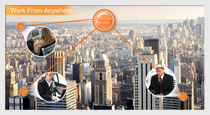 Navigation
Resources
Benefits
No hardware to purchase
Superior endpoint security
Packed with productivity features
Scalable and affordable
Learn More